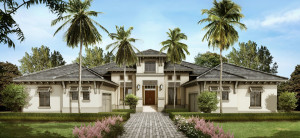 In the exclusive Bay Woods neighborhood at Bonita Bay®, Stock Signature Homes will be building 15 beautiful estate homes surrounded by golf, lakes, wetlands and the eagle preserve. The Bay Woods neighborhood is the last single-family neighborhood to be built in Bonita Bay®, which has long been acknowledged as one of Southwest Florida's most prestigious communities.
Homeowners in Bay Woods will enjoy access to the many amenities of Bonita Bay®, including walking and bicycle paths, canoe launches, tennis, fitness club, marina and boat storage, plus access to four private nature parks. Golf membership is also available to the Bonita Bay Club, which includes five championship golf courses.
Stock is developing six new luxury floor plans specifically for Bay Woods, and anticipates that three fully furnished designer decorated models will be completed and available for viewing and purchase by 2015 Winter Season. Home and home site packages are now available for purchase in BayWoods. Contact me for pricing, floor plans and further information.
Home designs to date are as follows:
Cameron (model now open)
Bedrooms: 4.0 / Bathrooms: 4.5 / Garage: 3 / Sq Ft Living: 4,297 / Sq Ft Total: 6,747
Clairborne
Bedrooms: 4.0 / Bathrooms: 4.5 / Garage: 4 / Sq Ft Living: 4,242 / Sq Ft Total: 7,073
Ellenton
Bedrooms: 4.0 / Bathrooms: 4.0 / Garage: 3 / Sq Ft Living: 4,828 / Sq Ft Total: 7,508
Stella (model now open)
Bedrooms: 4.0 / Bathrooms: 4.5 / Garage: 3 / Sq Ft Living: 4,238 / Sq Ft Total: 6,452