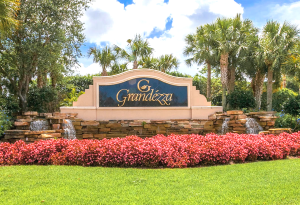 Grandezza is a beautiful, gated community in the Southwest Florida Village of Estero. With more than 425 acres and 23 lakes, abundant bird and wildlife, Grandézza is surrounded by acres of lush wooded preserve area. Tucked within this development's many pristine acres, there are a variety of spacious properties in nine unique neighborhoods which include single family homes, carriage homes, coach homes, attached and detached villas, condos, and custom built homes
Visit here to view a custom Virtual Tour of Grandezza with aerial and ground level photos of the community.
Every Grandézza home has a preserve, lake, golf course or sunset view – and often one home has them all! The different neighborhoods are made up of various floor plans and are situated on different lots throughout the development to give each resident a new home that is perfectly suited to their needs.
Grandezza Homes All Listings
Avalon Grandezza Coach Homes
Cypress Cove Grandezza Single-Family Homes and Villa Listings
Grande Estates Single Family Estate Home Listings
Oakwood Grandezza Coach-Carriage Listings
Sabal Palm Grandezza Coach-Carriage Listings
Santa Lucia Grandezza Single Family
Saraceno Grandezza Single Family Attached Villa Listings
Savona Grandezza Single Family Detached Villa Listings
Solemar Grandezza Single Family Home Listings
Villa Grande Grandezza Detached Single Family Villa Listings
Grandezza's unique neighborhoods:
Avalon: A neighborhood of Coach/Carriage homes with 4 condos per building and 2 car garages. First floor units have 1,767 sf and second floor units have 2,133 sf.
Cypress Cove: A neighborhood of Estate Homes and Villas. Sizes range from 1,800 sf to 3,193 sf.
Grande Estates: A neighborhood of custom, single family Estate Homes. Sizes range from 3,000 sf, on up.
Oakwood: A neighborhood of Coach/Carriage homes with 4 condos per building and 2 car garages. First floor units have 1,647 sf and second floor units have 2,150 sf.
Sabal Palm: A neighborhood of Coach/Carriage homes with 8 condos per building and 1 car garages. Square footage ranges from 1,449 to 1,967.
Santa Lucia: An intimate enclave of Single Family Detached Luxury Villas ranging from 2,500 sf. with a 2- or 3-car garage.
Saraceno: Mediterranean-style two- and three-bedroom Attached Luxury Villas. Saraceno offers eight different floor plans from 1,600 to 2,540 sf.
Savona: Single-family luxury neighborhood offers beautiful Detached two-, three- and four-bedroom Villas ranging in size from 1,600 to 2,600 square feet.
Solemar: Large Single Family Homes ranging from 2,500 sf. to 3,000 sf. Just 13 homes and 7 different floor plans in this small neighborhood.
Villa Grande: A neighborhood of 79 Luxury Detached Villas. Four distinct two-, three- and four-bedroom floor plans range in size from 2,190 to 3,289 square feet.
Life at Grandézza is focused on well being and relaxation. All homeowners in Grandezza are social members of the country club, which includes use of the dining/bar, fitness center, locker rooms, pros hops, tennis and swimming. Other memberships are Golf, Sports, and Club memberships. Contact me for more details on what is included.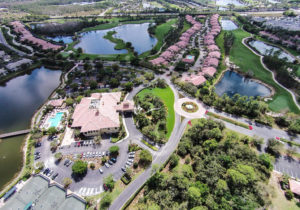 Equity golf memberships for the 18 hole course are still available and limited to 400 members. There are sports memberships, which offer a restricted amount of golf, for a reduced fee.
Residents are free to workout at the fitness center or spend a relaxing hour in a meditating yoga class. There is a junior size Olympic pool for use all day.
Grandézza provides miles of winding paths for walking, or biking, and six, lighted Har-Tru tennis courts. The 18-hole championship course designed by Darwin Sharpe III, is described as both scenic and challenging. After all that activity Residents can relax with a beverage on the breezy terrace of the 53,000 sq.ft. clubhouse, or enjoy fine dining in the formal dining room, or a more relaxed atmosphere in the casual bar. The Club serves as the social center of Grandézza and offers a full calendar of events to give residents a wonderful sense of community.
Located just minutes from Gulf beaches, Miromar Outlet shopping, SW Florida International Airport, and the Florida Gulf Coast University, Grandézza is centrally located between the new Coconut Pointe Mall and the Gulf Coast Town Center with an unending supply of restaurants, shopping and movie theatres – and close to I-75 for easy access to both Naples and Ft. Myers.
Email me for more information or call me direct: 239.770.3383.