Best Naples Restaurants 2019
Look around any major Naples intersection and you'll find at least three restaurants. Probably five. Maybe eight. In this wealthy, tourist-heavy community, eating out is a way of life. There's a new focus on inventive restaurants, big-name chefs and local ingredients.
The following are the top 10 ranked by a top food writer for the Naples Daily News:
1. Sails Restaurant
Sails takes the upscale dining for which Naples is so well known, and then ups it 10-fold. It's in the place settings of French Laguiole flatware, the marble-lined bar, the leather-topped stoolsand impeccable service.
(301 Fifth Ave. South, downtown Naples; 239-360-2000; (sailsrestaurants.com)
2. 21 Spices
A native of India, Chef-owner Asif Syed is a master of flavor and technique. His menu offers a tasting tour of his home country, and the restaurant offers opulence in the chic furnishings and plush, modern seating, the worldly menus and pedigreed kitchen. (4270 U.S. 41 E., Suite 21, East Naples; 239-919-8830; (21spicesdining.com)
3. The French
Chef-owner Vincenzo Betulia keeps things simple. With 19th century Parisian decor this open-air Fifth Avenue restaurant encourages a lingering meal. (365 Fifth Ave. S., downtown Naples; 239-315-4019; (thefrenchnaples.com)
4. Campiello Ristorante & Bar
With a menu inspired by the traditional cooking of Tuscan country, the classically good food and restaurant is located in the heart of Third Street South in the historic Naples Mercantile Building, with lush gardens and dramatic architecture.
(1177 Third St. S., downtown Naples; 239-435-1166; (campiellonaples.com)
5. Sea Salt
With 130 salts from around the world that infuse various dishes, and the adept servers able to explain the details of these innovative seafood delights, as you soak in the comfortable dining room.
(1186 Third St. S., downtown Naples; 239-434-7258; (seasaltnaples.com)
6. The Bay House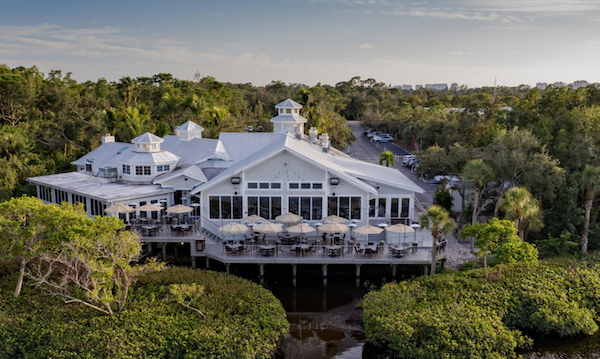 With its charmingly attentive servers and the bracing cocktails and the chef-inspired, Southern-infused and locally focused menu The Bay House also offers stunning, mangrove-trimmed views of the Cocohatchee. (799 Walkerbilt Road, North Naples; 239-591-3837; (bayhousenaples.com)
7. Bha! Bha! Persian Bistro
Chef-owner Michael Mir launched the restaurant inspired by his Iranian roots in 1997 in North Naples, but relocated it downtown in 2012.
(865 Fifth Ave. S., downtown Naples; 239-594-5557; (bhabhabistro.com)
8. The Continental
It's about the experience - warm and gracious service and an upscale meat-and-potatoes menu with a few surprises.
(1205 Third St. S., downtown Naples; 239-659-0007; damicoscontinental.com)
9. Dorona
A modern Italian steakhousewith a wow-look-at-me presentations. (2110 U.S. 41 N., Naples; 239-529-2819; doronanaples.com)
10. Namba Ramen & Sushi
With a Japanese-trained sushi chef, Namba offers really good ramen, really good sushi, and not much else
8847 U.S. 41 N., North Naples; 239-592-4992; (nambanaples.com)
The Best of the Rest
7th Avenue Social - the feel of a hipster coffee shop but the menu of a seasonal, chef-driven kitchen (7thavenuesocial.com)
Barbatella - a sister restaurant to Sea Salt and Dorona (barbatellanaples.com)
The Bevy - as much a destination as a restaurant. A pricey menu with signature cocktails. (naplesbevy.com)
Chez Boet - Classic French bistro fare with Floridian twists. (chezboetnaples.com)
The Grill at Ritz-Carlton - Dripping with decadence, its menu includes Prime dry-aged steaks, fresh seafood - (ritzcarlton.com).
Jimmy P's Charred:These are some of the best cuts of beef you can get in Southwest Florida, including Wagyu so finely marbled with fat it's soft pink. (jimmypscharred.com)
Lamoraga: Wonderfully Spanish with Asian and Middle Eastern influences on the menu and great tapas (lamoragarestaurant.com).
The Local: with a mission of farm-to-table creations, The Local dedicates a complete menu to locally harvested ingredients. (thelocalnaples.com)
LowBrow Pizza & Beer: With its laid-back vibe, it's doing some deliciously creative and dangerously good things with food. (lowbrowpizzaandbeer.com).
Ocean Prime: Food includes a juicy filet mignon, a towering 10o-layer carrot cake and exceptional service. (ocean-prime.com)
Osteria Tulia: - Inspired by an Italian informal village tavern serving regional wines and house-made cheese, sausage and pasta. (osteriatulia.com)
and there are always more restaurants...too many to include in one post!