The new grocery store kicked off its grand opening this week in the former Wild Oats location near the corner of Naples Boulevard and Airport-Pulling Road.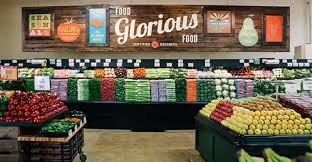 Features of Lucky's Market :
The store features a kitchen, sushi and ramen station and a salad bar.
Also features a full apothecary department, which has been designed to deliver a unique experience with a bulk DIY wall where people can buy what they need to make their own teas, salves, tinctures, healing elixirs and more.
Lucky's offers a "Sip & Stroll" program where customers can purchase a $2 pint of beer or $3 glass of wine or fresh-pressed juice, "Nitro" coffee or kombucha tea to enjoy while shopping.
The natural foods grocer has also signed leases for additional stores to open in the next few years in Fort Myers and Cape Coral.
The store also brings in live entertainment throughout the week to create a fun and unique atmosphere for shoppers.