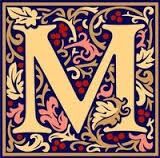 Naples' award-winning luxury golf and beach community long ago established itself as one of the area's most prestigious addresses. The gated country club community is designed to capture the beauty and character of the Mediterranean region of Europe, with homes that reflect the inviting architecture of the Italian countryside. Intimate neighborhoods are carefully placed among 1,000 acres of preserves and lakes, allowing just 950 homes within its 1,697 acres. Miles of walking and bicycling paths connect neighborhoods and parks, while members enjoy 36 holes of Tom Fazio-designed golf, a private Beach Club on the Gulf of Mexico, fitness, tennis and fine and casual dining at its elegant Clubhouse.
World-class Golf
Members-only Clubhouse
Private Beach Club
State-of-the-art Fitness Center & Spa
Parks and Trails
NEWEST ** VILLA AND ESTATE HOME NEIGHBORHOODS IN MEDITERRA
Cabreo **
London Bay's newest luxury neighborhood in Mediterra, features 39 homesites allocated for luxurious maintenance-free villas. Three brand new model homes are now open for viewing, highlighting the new floor plan choices starting at 2,800 a/c sq.ft to 3,248 a/c sq.ft of living space. These new model home homes, along with every other future home built in Cabreo, feature sparkling lake and natural preserve views to complement the rustic Mediterranean look of this new homes community. Home and homesite packages starting at $1M. Contact me for floor plans and a private showing.
Lucarno **
Lucarno's sparkling lakes, glorious gardens, and majestic fountains, characteristic of the timeless, natural beauty found in Northern Italy, has created a new concept in luxury villas that blends the unmatched splendor of Naples with the distinctive intimacy of the Old World. Lucarno's unique lakeside maintenance-free luxury Villa Homes offer five individual floor plans with design options ranging from about 2,500 a/c sq. ft. to over 4,000 a/c sq. ft. Pricing is from $940,000 – $1,175,000. Contact me for floor plans and a private showing.
Cortile **
Designed within one of Mediterra's most scenic environments, Cortile offers a setting with only 48 spacious homesites. Inspired by authentic Mediterranean architecture, this unique collection of estate homes and maintenance-free villas are characterized by innovative floor plans and exceptional luxury. Homes range from 2,800 to more than 6,000 sq. ft. London Bay's remaining villa homesites at Cortile Mediterra will be move-in-ready homes.

COACH HOME NEIGHBORHOODS IN MEDITERRA – RESALE
Brendisi – Coach home condominiums approx. 2,500 to 2,900 A/C sq.ft
Calabria – Coach home condominiums approx. 2,500 to 2,800 A/C sq.ft
Monterosso – Coach home condominiums approx. 2,700 A/C sq.ft
Porta Vecchio – Luxury coach home condominiums
VILLA AND SINGLE FAMILY HOME NEIGHBORHOODS IN MEDITERRA – RESALE
Amarone – Custom homes approx. 3,200 to 4,000 A/C sq. ft.
Bellezza – Villas approx. 2,900 to 3,700 A/C sq.ft.
Bello Lago – Estate homes approx. 4,000 to over 6,000 A/C sq. ft.
Benvenuto – Estate homes approx. 7,000 A/C sq. ft.
Buonasera – Luxury estate cul-de-sac homes aapprox. 3,200 to over 4,000 A/C sq.ft
Celebrita – Single family luxury cul-de-sac homes 4,500 A/C sq.ft.
Cellini – Custom homes approx. 3,300 A/Csq. ft.
Felicita – Luxury custom homes approx. 4,000 A/C sq. ft.
Il Corsini – Grand estate homes approx. 5,500 to 9,000 A/C sq. ft.
Il Trebbio – Single family homes up to 6,000 A/C sq.ft.
Marcello – Single family homes on large lots with 3 to 5 bedrooms and baths.
Milan – Detached villa homes with lake or golf views and homes from 2,900 to over 4,700 A/C sq.ft
Padova – Luxury estate homes on large homesites approx. 3,700 to over 8,000 A/C sq. ft.
Positano – Villa and Single Family homes up to approx. 4,600 A/C sq.ft.
Ravello – Luxury estate homes on large homesites approx. 5,000 to 10,000 A/C sq. ft.
Savona – Single family homes approx. 6,000 A/C sq.ft
Serata – Single family 3 to 5 bedroom homes in around 3400 square feet.
Teramo -Estate homes approx. 3,000 to over 7,000 A/C Sq.ft on large homesites
Terrazza – Single family homes 4,000 to 5,000 A/C sq. ft – 3 to 4 BR
Treviso – Estate homes approx. 6,000 to 10,000 A/C Sq.ft on large homesites
Verona – Custom homes from 4,000 to over 10,000 A/C sq. ft.
Villalago – Single family and villa homes up to 3,000 A/C/ sq.ft – 3 BR
Villoresi – Single family and Villa homes – 2 to 3 BR plus den
LIFE IN MEDITERRA
Created with all the color, texture and drama of classic Mediterranean style, Mediterra is a master-planned community that evokes the grace, charm and intimacy, that, until now, was never successfully imported from that region of Europe. The feeling of Mediterra is conveyed in the tranquility of a deep turquoise sea. In a pathway whose only destination is the imagination. And the lifelong connections made while playing the game of golf. It is unlike any other luxury residential community that ever was, or will be.
Fewer than 950 residences ensure the intimacy of low-density neighborhoods on 1,697 private acres…more than half is reserved for open spaces and appreciating nature. Naturally, no community conceived on this extraordinary scale could fulfill its promise without championship golf. Two, beautiful, Tom Fazio-designed courses await under azure skies.
Mediterra's residences are arranged into intimate neighborhoods – each with its own character and charm. Whether you choose custom manor single family homes, villas or coach homes, you get the same high Mediterra standards and attention to detail.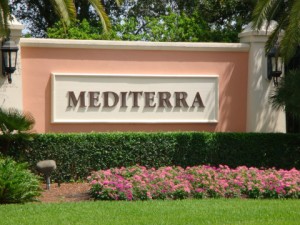 The centerpiece of it all is The Piazza. It includes the 25,000-square-foot country club, with formal and casual dining, plus the Sports Club, and a lakeside amphitheater.The Piazza is nestled among grand pastoral gardens and fountains that provide a spectacular ambiance for gatherings of all types.
GOLF
The Club at Mediterra is as special as the community itself. The 25,000-square-foot facility is home for formal and casual dining experiences, spacious locker rooms and elegant facilities for all types of gatherings.
The Club¥s crown jewels are its two 18-hole, Tom Fazio-designed golf courses. Membership for 36 holes is limited to just 550 members, enabling each member to have optimal playing conditions. These unique courses weave their way through nature preserves, lakes and land forms to create a challenging and dramatic golf experience. The Club at Mediterra has been certified as the world's first 36-hole Audubon International Silver Signature Sanctuary. The Bonita Bay Group has the most Audubon International Signature Sanctuary designated golf courses of any private developer in the world.
PARKS AND TRAILS
Bike and Walking Paths
Unfolding in stages, the community's bicycle and walking path will first reach Parque Celestial, then continue throughout the community to link with all the parks and Mediterra¥s neighborhoods.
Parque Celestial
The first park completed within Mediterra, features astrological elements borrowed from Renaissance and European traditions. The central element is a pavilion, a feature that occurred during the Renaissance in Italy, often overlooking gardens.
Calusa Play Park
Mediterra Calusa Park The Calusa Play Park offers children and adults an opportunity to learn more about the Calusa Indians, the earliest inhabitants of Southwest Florida.
Giardino di Colore (Garden of Color)
Giardino di Colore delights the eye with traditional colors of the Mediterranean: Blues, purples, whites and silver grays. This traditional garden is centered around a "farmyard" fountain, with an evergreen hedge separating the farmyard from a backdrop of flowering trees.
Park of Amazement
The Park of Amazement reflects on the past with elements of antiquity guiding visitors along a paved pathway that weaves through a natural woodland setting.
Contact me for more information