For more than seven decades, the Naples Beach Hotel & Golf Club has been a Collier County resort destination that has defined quality accommodations while being run by multiple generations of the same family.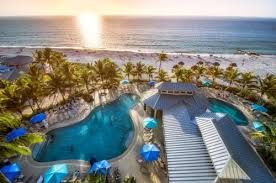 Going forward, though, the Watkins family intends to have Phoenix-based The Athens Group carry on the resort's legacy through an estimated $250 million redevelopment campaign, with the initial phase of the redevelopment expected to be completed by the end of 2023.
Under plans unanimously approved by the Naples City Council in April, Athens intends to build a "world-class resort" and will:
Replace the 319-room resort with a new 220-room luxury hotel and as many as 195 condominiums in a series of four- and seven-story buildings.
Halve the existing 34,000 square feet of meeting and ballroom space at the resort and refurbish Naples Beach Hotel's retail and restaurant offerings, including its signature restaurant, HB's on the Gulf, beginning early in 2021.
Retain the existing 18-hole golf course, dating back to the 1920s and redesigned a decade ago by Jack Nicklaus.
Naples Beach Hotel, at 851 Gulf Shore Blvd. North, has received the prestigious AAA rating, awarded to just over 6% of more than 27,000 properties inspected annually, in each of the past seven years.
The Watkins family decided to sell the resort in late 2016 and struck a deal with Athens last fall. The existing Naples Beach Hotel is expected to sell for in excess of $100 million, based on Collier County property records assessments and comparable, recent lodging property sales in the county.