NAPLES ZOO TO HAVE NEW ANIMAL HOSPITAL
A new animal hospital is underway at Naples Zoo at Caribbean Gardens.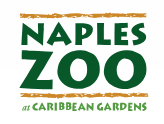 The single-story, 9,144-square-foot facility will include surgery, treatment and diagnostic facilities, and outdoor run area and administrative space.
Named after primary benefactors Denny and Tanya Glass, the new Glass Animal Hospital is scheduled for completion next winter, 2019.