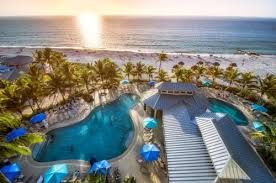 The 125-acre beachfront resort in the heart of Naples is to be redeveloped by The Athens Group when they take over ownership in 2021.
Following the ownership change, The Athens Group will redevelop the property, to include:
A new 220-room luxury hotel, replacing the 319-room hotel, with a Naples architectural aesthetic reflecting the city's coastal heritage.
A renovated Sunset Beach Bar & Grill and HB's on the Gulf.
Up to 195 beachfront and golf-side condominium residences.
A further upgrade of the 18-hole golf course.
Enhanced tennis, spa and fitness facilities.
Updated conference and event spaces.
An intimate Market Square, with activities for families, residents and neighbors.
The redevelopment of Gulf Shore Boulevard through the property into a landscaped corridor — the Gulf Shore Garden — with bike lanes on both sides.