Last summer was a bad one for the turtles and other sea life due to the lingering red tide event. Many area adult turtles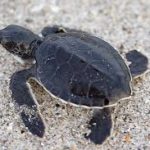 were lost last year, but with 90,000 sea turtle nests counted on Florida beaches last year (of which 2,059 loggerhead nests were in Lee County and 1,609 were tallied in Collier). Although hundreds of adults died last year, local experts said the hatchlings likely survived the red tide as they don't stop to eat after hatching, (whereas adults and teenage turtles ate contaminated organisms).
However, conditions cleared up this spring and nesting actually started a little early this year in both Lee and Collier counties. As of May 28th, Lee county reported a total of 78 nests. Sea turtle nesting season runs from May 1 through October 31.