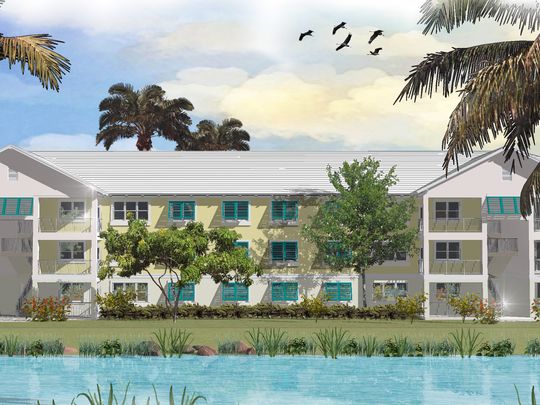 The Mosaic at Oak Creek is a new gated 273-unit, garden-style multi family apartment complex coming to downtown Bonita Springs. The developer expects to begin taking reservations by May of 2019 for the one, two and three bedroom apartments, which are expected to start at about $1,000 per month.
The Mosaic at Oak Creek would feature ten buildings, each three stories tall, built on 17.5 acres along Dean Street and the corner of Old 41 Road. A retention pond and seven acres of preserve land are included in the design, and the community will have direct kayak access to the Gulf of Mexico is available via Oak Creek.
Some retail space will be built at the current location of the Dixie Moon Café at the southeast corner of Old 41 Road and Dean Street, said Marc Mariano, partner with Mosaic Development. As part of a deal to build the apartments, Mosaic's developer paid the $81,000 to move the nearly 100-year-old Dixie Moon Cafe to a location near the Liles Hotel and Riverside Park.